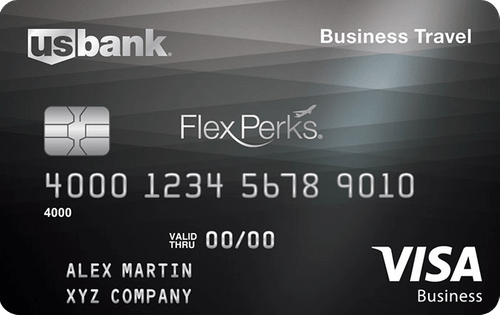 U.S. Bank FlexPerks® Business Travel Rewards Card Review
Following rewards bonus categories each month can sometimes be a burden for small businesses that need to focus on sales and marketing. You won't have that problem with the U.S. Bank FlexPerks Business Travel Rewards Card. Depending on your spending patterns, the card applies the highest bonus multipliers at month's end to the eligible categories where your highest dollar amounts fall.
Another unique twist comes with the ability to accumulate points on charitable donations, which earn 2x points throughout card ownership. As its name implies, the card heaps a variety of other travel perks and benefits on businesses that have an expanded radius of operations.
Down to business with the U.S. Bank FlexPerks Business Travel Rewards Card
APR: Variable APR of 13.99-24.99%, with no special introductory offer on purchases or balance transfers.
Annual Fee: $0 in the first year and $55 thereafter for primary accountholders; $10 annually for employee cards.
Reward Rates: The U.S. Bank FlexPerks Business Travel Rewards Card earns you two points for every dollar spent on gas, office supplies, airlines, cellphone service and charitable donations and one point on all other purchases.
Intro Offer: You'll receive 25,000 FlexPoints after you make $2,000 worth of purchases in the first three months of card ownership.
Perks and features of the U.S. Bank FlexPerks Business Travel Rewards Card
Annual fee credit: You'll receive a credit for accountholder and employee annual fees if you spend $24,000 in one year on eligible goods and services.
Real-time rewards: Use your mobile device to instantly redeem rewards anywhere at any time. Upon activating the program, you'll receive a signup bonus of 500 FlexPoints.
Baggage credits: You'll qualify for up to $25 per round-trip award ticket toward luggage fees or in-flight purchases on participating airlines.
U.S. Bank Connect: The bank provides a free online resource designed to offer a wealth of information on small business tips and tricks aimed at helping you operate efficiently and grow quickly.
Flexible redemption options: With your rewards, you can choose to redeem toward travel or acquire gift cards and merchandise from various purveyors of goods and services.
Is the U.S. Bank FlexPerks Business Travel Rewards Card right for my business?
This card appeals to businesses that have an aversion to fees and plan to use the card to spend modestly so that the membership charges are essentially wiped out. You'll boost your bottom line by securing the welcome bonus that equates to $375, which is enough to overcome the annual fees for the primary cardholder and 32 employees. However, if you spend $2,000 per month for a year, those fees would be credited back to your account anyway.
Plus, if you spend $50,000, you can earn up to 75,000 points, which equate to $750 when redeemed for merchandise and gift cards and $1,125 if you solely chose to offset eligible travel expenses. That's an approximate return of 2% to 3% on your dollars if you pay off balances each month and don't incur interest charges.
But, the primary focus is on travel after all, so if you fly and book hotel rooms regularly, you'll earn some sweet rewards without having to think all that much about where you're spending. Even though it's a travel-oriented program, rewards aren't inflexible, and double-points apply to categories in which you're also likely to shell out significant dollars. Outside the reward framework, instant discounts can be realized if you enroll in the bank's Savings Edge program and do business with big-name service and product providers such as Microsoft, stamps.com and AutoZone.
Of course, if you're looking for a bit more luxury in the air and on the ground, you might not be too thrilled with the card's travel benefits and perks. You won't get any credit toward Global Entry or TSA PreCheck program fees, and if you covet premium access to cushy airport lounges, you're out of luck also. You might consider the 2x point bonus on travel somewhat skimpy, as there are cards that offer greater multipliers on flights or hotels booked through proprietary reward portals. Finally, if you want to accumulate points and apply them toward ascending levels of elite traveler statuses, you won't find those opportunities with the FlexPerks card, either.
You'll pay a higher annual fee to access more upscale benefits, but that shouldn't be an issue if you crave a glitzier experience. The American Express Business Platinum card will cost you $595 annually, but that fee will end up in the rearview mirror if you spend heavily on travel. The card gives you 5x points per dollar on hotels and airfare booked directly through the amextavel.com website. You'll also get complimentary access for yourself and two companions to worldwide Centurion Lounges at airports worldwide, and Marriott hotel bookings move you toward the chain's Gold Elite Status.
The bottom line 
The U.S. Bank FlexPerks Business Travel Rewards Card is a versatile option for businesses that take to the air and spend consistently in fairly common business categories. Small businesses will appreciate the opportunity to wipe out annual fees with some reasonable spending. Also, it's one of the few cards out there that apply double bonus points to charitable contributions.
The card only nips at the heels, however, of more extravagant travel rewards programs that cost more but offer top-tier features and benefits. If you want to travel in style and receive priority boarding privileges, along with a chance to kick back privately between flights with food and drink, you'll want to continue your search.