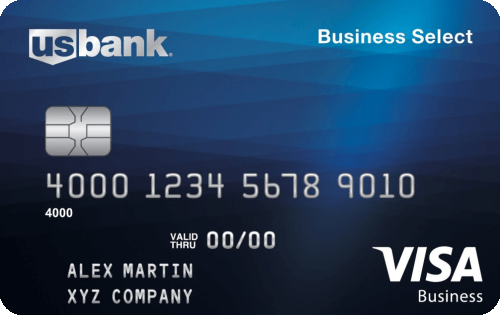 U.S. Bank Business Select Rewards Review
Some businesses are constantly on the move, and other organizations may spend more time closer to home. If your company is somewhat of a hybrid between the two strategies, the U.S. Bank Business Select Rewards Card might be of interest. Whether you use the card to embark on business trips or pay for expenses related to brick-and-mortar operations, there will be some desirable rewards attached.
Utilities, travel, office supplies and more are among the highest-paying bonus categories, so businesses that pay significant monthly bills on these everyday items could reap large benefits. However, you'll need to pick one category among day-to-day, automotive or travel and entertainment expenses. So, analyzing your spending ahead of time will help solidify that selection.
Down to business with the U.S. Bank Business Select Rewards Card
APR: This card charges a variable APR of 13.99-24.99%, with a nine-month 0% introductory offer on purchases. No special rate for balance transfers exists.
Annual Fee: None
Reward Rates: Three points for every dollar spent on a variety of daily expenses, including shipping, office supplies, utilities, travel, automotive expenses and advertising. One point applies to all other purchases.
Intro Offer: You'll receive 20,000 additional points after you make $1,000 worth of purchases in the first three months of card ownership.
Perks and features of the U.S. Bank Business Select Rewards Card
Card control: You can set individual spending limits on employee cards and get an immediate notification if purchases seem out of line with regard to category or location.
Real-time rewards: Use your mobile device to instantly redeem rewards anywhere at any time. Upon activating the program you'll receive a signup bonus of 500 FlexPoints.
Encore relationship rewards: Businesses that make purchases with and receive payments from U.S. Bank cards can realize higher rewards than a single-platform solution would yield.
U.S. Bank Connect: The bank provides a free online resource designed to offer a wealth of information on small business tips and tricks aimed at helping you operate efficiently and grow quickly.
Flexible redemption options: With your point rewards, you can choose to receive a statement credit for the dollar value or redeem through the bank's travel portal, among other options.
Is the U.S. Bank Business Select Rewards Card right for my business?
It shouldn't be too difficult to determine whether the U.S. Bank Business Select Rewards Card is appropriate for your business. If you spend heavily in one of the triple bonus categories, holding the card by itself for just those expenses would earn some juicy rewards.
Take, for example, a transportation business. It's likely you'd choose automotive expenses as your premier bonus category. It's not a stretch to forecast that you'd fork over considerable dollars for gas, tires, service and repairs. If those expenses totaled $50,000, you'd earn 150,000 points, which translates to $1,500 if you use the card to pay for the whole deal. Other expenses will accrue, and you'd receive another 50,000 points or $500 on advertising, inventory or computer equipment. That's $2,200 in first-year awards without much guesswork.
Regardless of your industry, travel might factor heavily into your plans. If you designate that category for your 3x bonus rewards, airfare and hotels earn the highest point values, and you wouldn't be tethered to one particular airline. Points can be redeemed through more than 150 carriers. Additionally, if you're a new business that's eyeing a larger purchase like a phone system, you could pay $2,000 monthly on an $18,000 ticket, earning rewards without incurring finance charges for the first nine months of ownership.
One other plus of owning the card is the absence of an annual fee. That's good news because the welcome bonus isn't massive, but you'll start off on the right foot by netting at least $200 with a very manageable spending requirement in the first three months.
There are a few disadvantages that might dissuade a business from acquiring the card. Primarily, if you're looking to move a big balance from a high-interest card to a 0% program, that option won't be possible with the U.S. Bank solution. Secondarily, you'll have to be mindful when you earn your points, as they expire five years from the time you earn them. Lastly, if you plan to travel abroad a lot, you'll also want to exercise caution. Purchases made internationally incur foreign transaction fees of 3% and the $1,500 in charges on a $50,000 annual spend could negate a big chunk of your reward dollars.
If you want a little bit of everything in a card, the Wells Fargo Business Platinum Credit Card might fit the bill. Right off the bat, you'll get a welcome bonus of $500 cash back or 50,000 points when you spend $3,000 in the first three months and enroll in the bank's Business Card Rewards Program. Both balance transfers and purchases qualify for no-interest financing for nine months and no annual fee applies. A cool feature lets you customize company cards by uploading a specific design or logo.
The bottom line 
The U.S. Bank Business Select Rewards Card is a big asset to businesses that can accurately project spending categories and earn some big-time rewards on those dollars. The card works well as a single solution but could also be paired with another card to optimize rewards across a couple of different categories. Once you choose your category, there's not much to mind outside timely redemptions.
On the other side of the coin, there could be some features you're specifically targeting that are notably absent from the Select Rewards card. The lack of balance transfer options or a nominal welcome bonus might not be deal-breakers, but the decision is ultimately yours.