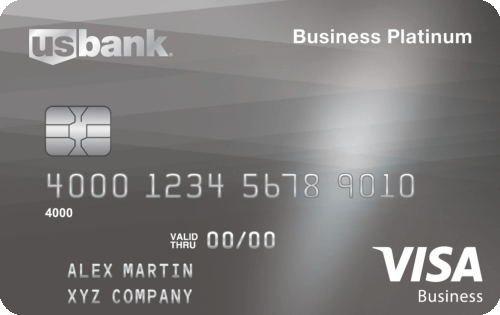 U.S. Bank Business Platinum Card Review
Most business credit cards are designed to give business owners perks from their everyday expenses, but the U.S. Bank Business Platinum Credit Card offers no rewards program. Therefore, you can't gain points, cash back or miles through your regular spending with this card. This makes the card ideal primarily for people who can't get approved for other cards. If you're still stuck on getting rewards, U.S. Bank outperforms itself with the other credit cards in its lineup.
One of the most satisfying facts about U.S. Bank, which has been around since 1863 and is the fifth-largest commercial bank in the United States, is its recognition for being one of the World's Most Ethical Companies in 2019. It's also received this designation the previous four years. Thus, if you're concerned about the quality of the bank you work with — a detail all consumers might want to consider — U.S. Bank is one of the best.
The APR on this card is lower than most other business credit cards, and no annual fee is an added perk. However, the lack of any reward earnings could make this card less feasible for business owners looking to earn points or miles for their everyday spending.
Down to business with the U.S. Bank Business Platinum Card
Let's start with the basics. We highlight the details of the U.S. Bank Business Platinum Card below to help you make your decision.
APR: 0% for the first 12 billing cycles on purchases and balance transfers, then 11.99%-19.99% variable.
Annual Fee: $0
Reward Rates: U.S. Bank doesn't offer any rewards with its credit cards.
Intro Offer: U.S. Bank doesn't have an introductory offer for opening an account.
Perks and features of the U.S. Bank Business Platinum Card
This U.S. Bank credit card may have fewer initial perks than many of its counterparts, but there are a few key benefits worth considering.
Free employee cards. U.S. Bank charges no added fee for additional cards for your employees to use.
Lower balance transfer fee. This bank only charges 3% on balance transfers than the 4% some other cards charge.
Fraud protection. You are not liable for any percentage of fraudulent charges and monitors your activity for fraudulent purchases at all times.
U.S.-based customer service. All of U.S. Bank's customer service agents are based in the United States, so you'll be able to talk to a local helping hand.
Controls over employee spending. You can set employee spending caps and the amount they can spend in a specific period or place.
Is the U.S. Bank Business Platinum Card right for my business?
If you're looking to earn rewards on a business credit card, you'll want to look elsewhere. However, the fact that U.S. Bank was named one of the World's Most Ethical Companies Award might be enough to persuade you to use this card. Ethisphere Institute, the organization that coordinated the award, considers five categories — ethics and compliance program, culture of ethics,  corporate citizenship and responsibility, governance and leadership and reputation. 
U.S. Bank is one of only five banks to receive the award. For customers concerned with how their financial institution uses their money, U.S. Bank is an excellent choice. Not only do you know your money is in good hands, but you get a low APR, no annual fee and other perks that will help your business grow.
Who might want to look elsewhere for a credit card? Anyone who wants to earn rewards for their spending will want to try another card. The U.S. Bank Business Platinum Card doesn't have any reward program set up, nor does it have an introductory offer. For many business owners, this is a no-go.
If you like the idea of banking with an institution with high ethical standards, but you also want perks, you're in luck. U.S. Bank has several other business credit cards that offer fantastic rewards programs — from points to travel to cash back.
One of its most flexible cards is the U.S. Bank Business Leverage Visa Card. This card allows you to choose two categories that you spend the most money in and then earn 2x the points on those categories. You can choose from nearly 50 different categories, like restaurants, hotels, construction supplies and airlines. For the rest of your purchases, you'll earn one point per dollar. The rewards are unlimited, and you'll gain one bonus point for every dollar spent up to $100,000 in the first year. However, you will pay a $95 annual fee after the first year and likely have a higher variable APR of 18.49%.
The bottom line
The U.S. Bank Business Platinum Card is a no-fee card, but unfortunately, it does not carry any rewards-earning potential. This lack of bonuses is not an option for some business owners who look to earn cash back or travel rewards on their daily spending. However, for anyone who doesn't need rewards, you'll do well with this card due to its lack of an annual fee and its low APR. If those two aspects are of higher priority for your business than earning rewards, this card could serve you well.
Overall, the U.S. Bank Business Platinum Card might be worth looking into for business owners who don't need rewards potential. Otherwise, you'll want to check out the other cards in the U.S. Bank repertoire, which feature numerous incentives for spending.