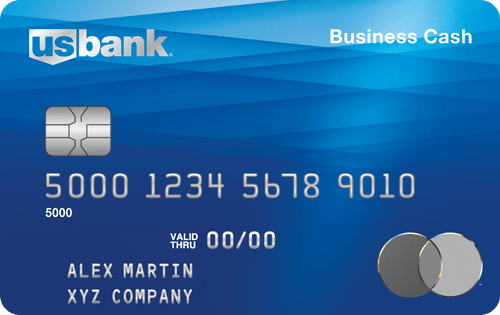 U.S. Bank Business Cash Rewards World Elite MasterCard Review
The U.S. Bank Business Cash Rewards World Elite Mastercard is a cash back rewards card that could work well for businesses that already spend money on office supplies, gas and cell service. With this card, you'll earn cash back for each of those purchases you make, as well as additional bonus cash back annually. Furthermore, the period of 0% APR is almost unheard of, and once you do begin paying interest, it's at a decent rate.
Additionally, U.S. Bank is the only banking entity in the United States to be awarded the World's Most Ethical Companies award from The Ethisphere Institute five years in a row. This award designates companies that utilize responsible business practices and ethical decision-making processes. If you care about who handles your money, and how, U.S. Bank is among the best. Let's explore the other features of this business credit card.
Down to business with the U.S. Bank Business Cash Rewards World Elite MasterCard
If you're wondering about the essential details that come with opening a U.S. Bank credit card, we have you covered.
APR: 0% for 15 months, then 13.99% to 24.99% variable 
Annual Fee: No annual fee
Reward Rates: Get 3% cash back on spending at gas stations, office supply stores and cell phone providers, and 1% cash back on everything else. Also, receive an annual bonus of 25%, up to $250, in rewards following your anniversary date.
Intro Offer: Receive $500 cash back after spending $4,500 in the first three months after opening your account.
Perks and features of the U.S. Bank Business Cash Rewards World Elite MasterCard
Don't forget to look at the rest of the benefits of becoming a U.S. Bank cash rewards cardholder.
Long 0% APR term. For the first 15 months, you won't have to pay interest on purchases. Also, enjoy zero interest on balance transfers made within 60 days of account opening. If you're looking for a card that won't charge you for your expenses for an extended amount of time, this could be the card for you. 
Unlimited rewards. Some cards halt your rewards earning at a certain point, but not this one. You can receive an unlimited 3% cash back on eligible purchases, and 1% back on everything else.
There's a 25% annual bonus. Get up to $250 additional back in rewards each year as a bonus on top of your regular rewards earnings.
No fraud liability. Cardholders don't have to worry about being responsible for fraudulent charges on this card. U.S. Bank won't hold you accountable.
Free employee cards. Don't pay more to get your employees set up with individual cards. Also, you can earn cash back on your employee purchases.
Is the U.S. Bank Business Cash Rewards World Elite MasterCard right for my business?
If you're in the market for a cash back rewards card for everyday business expenses, this U.S. Bank option could work well for you. You'll earn money back for ordinary costs for items like gas, office supplies and cell phone service at a high rate of 3%. Typically, a card with no annual fee would offer a much lower percentage of cash back — more in the 1% range. Cardholders usually have to pay upfront to get fantastic cash-back rates, but not on this card.
Furthermore, a 25% bonus cash back reward (up to $250) each year is a great way to maximize your earnings. Your cash back will never expire, so getting extra rewards on up to $1,000 each year is fantastic. That's $1,250 total bonus cash back after only five years of membership.
Who might want to look elsewhere for a business credit card? Anyone looking for a travel rewards card — or someone who frequently travels for business and thinks earning miles could bring more bang for their buck — could look into the U.S. Bank FlexPerks Business Travel Rewards card. The annual fee is very low at $55, and if you spend at least $24,000 per year, U.S. Bank will reimburse you that fee. You'll earn $375 worth of points after spending $2,000 in the first four months of opening an account, as well as double points on all office supplies, gas and airline expenses. Also, you'll get a $25 credit to spend on in-flight purchases for each round-trip ticket you buy. Plus, you still get to experience U.S. Bank's high ethical standards.
The bottom line
For business owners who are looking to work with a bank they can trust, you can't beat U.S. Bank. From its rewards rates to its low (or non-existent) yearly fees, there's not much to complain about with this cash back card. You won't have to pay a fee to get cards for your employees, but you'll still receive cash back for all of their spending.
Whether you have a balance to transfer and want to pay more toward your principal or you want to earn rewards for your business expenses, this card's lavish 15-month zero-interest period could win you over. Also, if you're tired of hearing scandal after scandal of banks using your money for their gain, working with U.S. Bank could alleviate that stress. As a five-year-in-a-row recipient of the World's Most Ethical Companies award, U.S. Bank helps you rest easy knowing your money is in the right hands.
Overall, the large cash back rewards and low annual fees make this card a grand slam for growing your business.