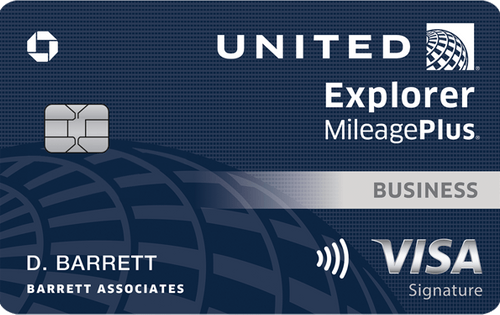 United Explorer Business Card Review
If you're a seasoned business traveler, you understand how perks can affect travel. Access to an airport lounge or priority boarding can make or break a trip. The United Explorer Business Card from Chase Bank gives you both of these, as well as a low annual fee and a decent APR.
This is one of only four Chase credit cards that target business owners. Its benefits make it an exciting choice for business owners who already frequently travel on United and are looking to earn rewards to put toward future travel.
Down to business with the United Explorer Business Card
To start our review of this business credit card, we'll go over the fundamentals of what cardholders get when they open an account.

APR: 17.49% to 24.49% variable
Annual Fee: $95
Reward Rates: Earn two miles for every $1 you spend on expenses at United Airlines, gas stations, restaurants and office supply stores. Get one mile for every $1 on all other purchases.
Intro Offer: Receive 50,000 bonus miles for spending $5,000 in purchases within three months of creating your account. Earn another 50,000 bonus miles after spending $25,000 within six months. 
Perks and features of the United Explorer Business Card
This card also offers business owners several other perks that can help them grow their business.
Priority boarding. When you purchase a United ticket using the card, you and anyone traveling on your reservation can board early. This perk means more room to stow your carry-on bag and less stepping over travelers sharing your aisle.
The first bag checked free. Save on one checked bag for you and one companion on your reservation. You could save as much as $120 roundtrip using this benefit for two travelers since the first checked bag on United costs $30.
No foreign transaction fees. Stop worrying about extra fees when you use your card abroad. Avoid spending any foreign exchange fees during international travel with this card.
Airport lounge access. Get into a United Club airport lounge for free twice per year. Instead of crowding into the last empty seat at the airport bar, relax in the United lounge and enjoy complimentary beverages, snacks, Wi-Fi and more.
Free employee cards. Pay no additional fees for extra cards for your employees to use. You can earn miles through your employee spending, as well.
Is the United Explorer Business Card right for my business?
If you're a frequent United flyer, or you think you could become one, this credit card could help you rack up miles to put toward future business travel. Lowering your travel expense line is enticing enough, but the card also offers benefits that could make for more comfortable trips. Although it only gives you two United Club passes per year, that's two more than many other travel rewards cards offer — especially with such a low annual fee.
Also, maintaining a card through United Airlines opens up over 300 cities across the globe, which many other airlines can't beat.
Furthermore, the introductory offer is fantastic, and it's helpful to earn double miles on expenses like restaurants and gas stations. Also, priority boarding is better than some other cards that offer preferred boarding — or no early boarding at all. These additional minutes will ease the stress of having to race for the last overhead space on the flight. If you're a frequent traveler, these small perks can help you manage the trips. Cardholders also have access to travel assistance, such as baggage delay and trip cancellation insurance.
Additionally, having free cards for employees makes a big difference. Many credit companies do offer this, but some don't, and having to pay for each card could add up if you have a large number of employees.
Anyone who doesn't enjoy flying on United will want to look for a different rewards card. The benefits are aimed at United travelers, so you might want to try another card, such as the Southwest Rapid Rewards Premier Business Credit Card. This option has a similar fee of $99 per year and the same APR but works best for business owners who prefer to fly with Southwest. You get 60,000 miles after you spend $3,000 in the first three months, along with double points on all Southwest purchases and one mile on all other expenses. Also, cardholders get both the first and second checked bag for free, as well as no charge to change your ticket. For anyone who swears by Southwest, this card could help you earn rewards for trips you are already planning to take.
The bottom line
If you're looking for a business credit card that can earn you miles for trips you take around the world, look no further than the United Explorer Business Card. It's difficult to find travel perks like airport lounge passes and priority boarding at such a low annual fee. Typically, those benefits come with a yearly price tag of $300 or more. At $95 per year, this card is a steal.
Also, the fact that the card earns double miles on expenses like restaurants, gas stations and office supply stores is enticing. These are purchases you would be making anyway, so you might as well earn miles to use toward future business travel while you're at it. With free employee cards and such a sizeable introductory offer, if you are a United flyer, there's little reason to skip this card.
However, if you don't like flying with United Airlines, this card wouldn't be worth your time. You would be able to find one that's better suited to your needs elsewhere.