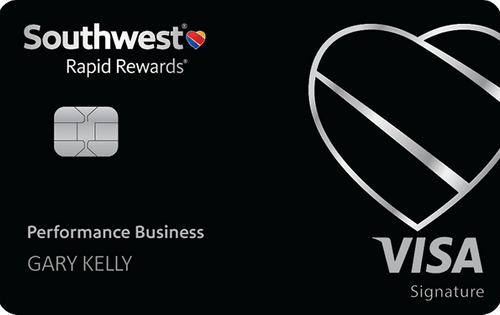 Southwest Rapid Rewards® Performance Business Credit Card Review
Co-branded with Chase, the Southwest Rapid Rewards® Performance Business Credit Card is a premium travel card that stands strong against the leading cards on the market. Southwest devotees will find a lot to like with the card, which comes with a beefy signup bonus and hefty point multipliers that extend beyond business with the carrier. Simply holding the card for a year earns you an anniversary point bonus, and if you're spending enough upfront, you'll be happy with the end result. The kicker is you don't need to redeem points solely for Southwest trips. The airline's Rapid Rewards program lets you transfer points to more than 50 international carriers.
Down to business with the Southwest Rapid Rewards Performance Business Credit Card
APR:  This card charges a variable APR of 17.49-24.49%, with no special introductory offer on purchases or balance transfers.
Annual Fee:  $199
Reward Rates: The Southwest Rapid Rewards Performance Business Credit Card earns you three points per dollar spent on Southwest flights and at the carrier's hotel and car rental partners. You'll receive two points per dollar on social media advertising, and Internet, phone and cable services, with one point on all other purchases.
Intro Offer:  You'll receive 70,000 points after you make $5,000 worth of purchases in the first three months of card ownership. After one year of ownership, you'll get an additional 9,000-point bonus.
Perks and features of the Southwest Rapid Rewards Performance Business Credit Card
Priority boarding privileges:  You'll be eligible for four upgraded boardings per year on Southwest flights, when available.
Airport security perks:  Account owners or a designated employee receive a $100 statement credit every four years when using the card to apply and pay for Global Entry or TSA PreCheck program fees.
Free employee cards: Add employees to the user mix, and you can easily manage their expenses while enhancing your own rewards on the aggregate business spend.
Companion certificate:   If you accumulate 110,000 points in a year, you'll be entitled to a Southwest companion certificate good for a flight within the 48 contiguous U.S. states.
Free Wi-Fi: Cardholders get reimbursed for $8 Wi-Fi service on Southwest trips, and that credit is good every day of the year.
Is the Southwest Rapid Rewards Performance Business Credit Card right for my business?   
With the Southwest brand on the card, businesses that rely heavily on travel will derive the greatest benefit from this option. International wayfarers will not encounter fees for foreign transactions, and with other issuers charging up to 3%, you'll save $1,500 on $50,000 dollars spent abroad. Credits toward Global Entry or TSA PreCheck programs make waiting in line a thing of the past, and if you reach Southwest's A-List status, you'll ramp up point rewards by 25% while enjoying priority boarding privileges. Redeem points for merchandise, gifts cards and hotel rooms and it looks as if the card is tailor-made for the discerning business on the go.
Equating points with dollars, you can see how owning the card cuts costs for your business. Start with the welcome bonus that's not difficult to attain. Depending on where you redeem your 70,000 points, those rewards in total could amount to approximately $1,000 in savings. If you fly Southwest often, the inflight Wi-Fi credit adds up quickly as well. Fifty flights annually contribute another $400 to your bottom line and keep you connected to operations back home or the opportunities that await. Toss in the fact that you'll earn additional points on all other business pending, and it's not difficult to see how the Rapid Rewards Performance adds another handy lever to your financing toolbox.
While travel rewards are all well and good, the card's emphasis on that category raises concerns for the homebody businessperson. What if you just don't spend a lot on travel or pledge allegiance to another airline? In these instances, the card won't hold much appeal for you. Businesses that spend a lot on inventory, gas and restaurants will only get a paltry one point per dollar, and you could easily double that reward with a more balanced card.
The final straw might be the $199 fee. Some small business owners who hold cards for occasional spending or emergencies would object to paying something for almost nothing in return. And if you merely pocketed the card for a year, the approximate $145 maximum anniversary reward wouldn't wash away the annual fee.
You don't have to search far to find a better all-around card for business. The Chase Ink Business Preferred Card grants you three points per dollar on travel along with shipping, telecom services and social media advertising. Its welcome bonus eclipses the Southwest option by 10,000 points, and if you redeem those through the Ultimate Rewards platform, that's $1,000 in your wallet. There is an annual fee with the Ink card, but it sets you back $104 less annually than the Rapid Rewards Performance card.
The bottom line
Loyal Southwest customers who double as business owners will find it hard to resist the Southwest Rapid Rewards Performance Business Credit Card. A healthy welcome bonus coupled with big-time point multipliers on airfare and hotels will help garner approval at the executive level. The card carries a noteworthy fee but it's quickly vanquished with reasonable spending.
The card isn't for everybody, though. What if you spend outside the bigger bonus categories, patronize another airline or just don't fly for business at all? In that case, you'll want to acquire a card that caters specifically to your needs, and you'll have plenty of choices inside or outside the Chase family.