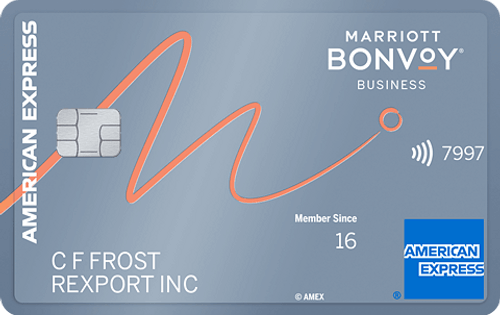 Marriott Bonvoy Business™ American Express® Card Review
If you're the type of business owner who wants to pocket several credit cards, each with best-in-class bonuses and benefits, the Marriott Bonvoy Business™ American Express® Card might be the one to hold for hotel stays. Loyal business customers of the worldwide hotel enterprise will find a lot of utility from owning the card, and big, multiplier bonuses don't just apply to rooms booked at Marriott. Hefty point bonuses apply to select common business spending categories and respectable rewards are earned on all other purchases, with no spending caps whatsoever.
As a hotel rewards card, much of the appeal lies within your ability to earn a free night's stay at any of the Marriott properties, which include former Starwood hotels and resorts. The card does charge an annual fee, but the value of these complimentary bookings erases that cost. You can apply points judiciously to secure stays at properties that range from budget to upscale accommodations. And automatically gaining Silver Elite status lets you earn 10% Marriott Bonvoy bonus points on purchases within the chain's properties. You can also redeem points through various airlines, but the overall bang for your buck will be depleted in that scenario.
Down to business with the Marriott Bonvoy Business American Express Card
APR: Standard variable APR that ranges from 17.24-26.24%.
Annual Fee:  $125
Reward Rates:  You'll earn six Marriott Bonvoy points for each dollar spent at participating Marriott Bonvoy hotels and four points per dollar on gas, wireless phone bills and shipping services. All other purchases earn two points per dollar.  
Intro Offer: A 75,000-point Marriott Bonvoy bonus will be applied to your account after spending $3,000 in the first three months of owning the card.
Perks and features of the Marriott Bonvoy Business American Express Card
Free room at renewal: Each year you own the card, you'll enjoy a free night in any Marriott property just for being a part of the program. Spend $60,000 in a year, and you'll receive an additional free stay.   
Year-end summaries: At the close of the year, Amex will break down all your spending in each category so it makes tracking and tax reporting easier at a time when you and your accountant you need pertinent information the most.
Connect to QuickBooks: You can upload transactions to one of the world's leading accounting software solutions. Sync your Amex business app with QuickBooks Online to record and categorize all business transactions, once again making tax time a little less hectic.
American Express presale opportunities: You can get advanced notice of concert and sporting events before tickets go on sale to the rest of the world. Special offers get you privileged access or steep discounts for many different events.
Is the Marriott Bonvoy Business American Express Card right for my business?
Logically, the Marriott Bonvoy Business American Express Card works best for businesses that spend a good amount of time away from headquarters. The overwhelming features and benefits are realized through hotel bookings and other expenditures on Marriott properties. However, that's not where the road ends. If you spend large amounts in the 4X bonus point categories, you'll pile up some very impressive rewards. Should your business take you outside U.S. borders, the absence of foreign transaction fees will also help ease the cost burden on travel for you or employees.
On the other hand, small businesses that stay close to home won't gain a lot of positive impact from the card. Primarily, there's a significant annual fee involved, and if you don't take advantage of the free night at one of the brand's many hotels, it might be tough to overcome that expense. Secondly, if you use credit cards sparingly or in emergencies, you could miss out on the huge welcome bonus, which is one of the primary reasons to acquire the Marriott card. Finally, if you do travel frequently and your allegiances lie outside the Marriott family, you won't ascend to Gold or Platinum Status, which net you 25% and 50% more points respectively for dollars spent at participating hotels.
Sometimes a straightforward cash back card makes the grade for business owners who don't want to juggle several cards to optimize all their spending habits. In that case, the Capital One Spark Cash for Business fits the mold since you earn unlimited cash back on any business purchase you make, without a spending limit. You'll get a $500 cash back reward after spending $5,000 in the first three months and $1,500 if you manage to charge $50,000 in expenses in the first six months of owning the card. There's no annual fee in the first year, and subsequent years' fees of $95 set you back less than the Marriott card. And you won't need to monitor spending or deal with signups and revolving categories.
The bottom line   
With the Marriott Bonvoy Business American Express Card, hotel stays are the name of the game. Add in significant rewards on everyday spending categories, and the card functions as a great way to add value to your business purchases. As your spending increases, membership status rises and you can grab additional point bonuses while achieving Marriott Gold or Platinum status.
If you'd rather not think too much about where or how much you're spending, a basic cash-back card might be better. If hotel accommodations aren't a part of your budget or you don't expect to spend significant dollars in the select categories, grabbing 2% cash back on all your business expenditures would make your life a lot simpler when it comes to receiving the rewards you deserve.