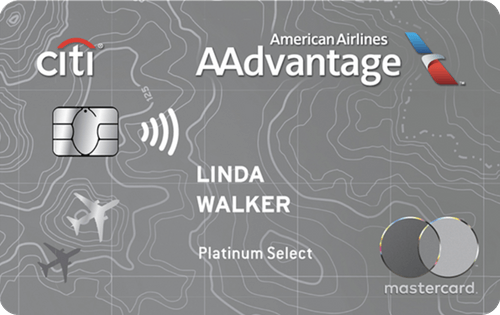 CitiBusiness / AAdvantage Platinum Select World Mastercard Review
The CitiBusiness / AAdvantage Platinum Select World Mastercard has several perks for business cardholders who want to reduce the amounts spent on travel. Although the card's APR is average, the annual fee is on par with many of its competitors, and its introductory offer is fantastic.
The partnership with American Airlines is helpful for both domestic and international travelers, as well, since American Airlines flies to over 50 countries around the globe.
Down to business with the CitiBusiness / AAdvantage Platinum Select World Mastercard
You'll have access to many enticing perks with this business credit card, but it's helpful to start with the fundamentals.
APR: 17.24% to 25.24% variable 
Annual Fee: $0 for the first 12 months, then $99
Reward Rates: Earn two miles for every $1 spent on American Airlines purchases, as well as on telecommunications, cable and satellite, car rental or gas station expenses. Earn one mile for every $1 spent on everything else.
Intro Offer: Receive 70,000 American Airlines AAdvantage bonus miles after spending $4,000 in the first four months your account is open.
Perks and features of the CitiBusiness / AAdvantage Platinum Select World Mastercard
This card also offers business owners several other perks that can help them grow their business.
One reduced companion fare. After spending $30,000 each card membership year, receive one $99 (plus taxes and fees) domestic airfare voucher for a companion in economy class.
Free checked bag. Spend nothing on your first checked bag for up to five travelers on the same domestic itinerary.
No foreign transaction fee. Avoid spending money to use your cards overseas. Save on foreign exchange fees that can add up over your travels.
Preferred boarding. You and your travel companions may board immediately after Priority passengers take their seats, allowing you to find that perfect spot for your carry-on bag.
Reduced costs onboard. Get 25% off eligible inflight purchases on food, beverage and Wi-Fi when you used your card.
Is the CitiBusiness / AAdvantage Platinum Select World Mastercard right for my business?
Are you already loyal to American Airlines? Or are you willing to become an avid flyer of the airline? If so, consider opening the Citibusiness / AAdvantage Mastercard. The free checked bag for you and up to five travelers on a domestic flight could save you up to $300 roundtrip if you and your colleagues planned to check a bag. The savings equals triple the cost of the annual fee — and that's all for one trip.
Furthermore, you can maximize your benefits if you spend more than $30,000 each year since that qualifies you for a reduced fare companion ticket. This reduced ticket could save money when you have to bring a colleague along. Plus, although you can't get a free checked bag on an international flight, you won't have to pay for foreign transaction fees. This saves you from having to spend money to use your card while abroad.
Additionally, if you need to connect to the internet while flying, you can save 25% on that and all qualifying onboard food and beverage purchases. This can lessen the drain on company spending while traveling on business while also allowing you to maximize productivity in the air. Also, your boarding process will be less stressful since you qualify for preferred boarding. That means you will board immediately after priority members board and will have more space in the overhead compartment to fit your carry-on.
Who might want to skip this card? Anyone who is not a fan of American Airlines will be able to find another card better suited for their needs. All the reward miles target American Airlines customers, so it wouldn't make sense for someone who doesn't travel using the airline. However, since American has so many domestic and international destinations, flying with the company is almost inevitable.
Also, a business traveler who is looking for luxury perks could find a better card. However, you might find what you want around the corner. Although this Citi card gets you preferred boarding, another option in its repertoire — the Citi / AAdvantage Executive World Elite Mastercard — provides even more luxe benefits, but for a higher annual fee. This card costs $450 per year but offers a $100 statement credit every five years for TSA PreCheck or Global Entry passage, priority check-in and access to more than 50 worldwide airport lounges for you and up to two guests. The card carries the same APR and has an introductory bonus of 50,000 miles after you spend $5,000 in the first three months your account is open.
The bottom line
The perks that come with this card aren't as high as those on some other cards, but the annual fee is low. If you're looking to pay no more than $100 per year for a travel rewards credit card for you're business, this card could work for you. As long as you enjoy traveling on American Airlines and don't require extravagant bonuses, this card could help you see good returns on investment.
Another plus is that this card gives you double the miles on expenses outside of American Airlines purchases – like restaurants, gas stations and telecommunications expenses. The rewards program will allow you to earn two times the miles while spending as you normally would. For business owners who are already American Airlines loyalists, there is little reason to avoid the CitiBusiness / AAdvantage Platinum Select World Mastercard. You'll be earning miles in no time.