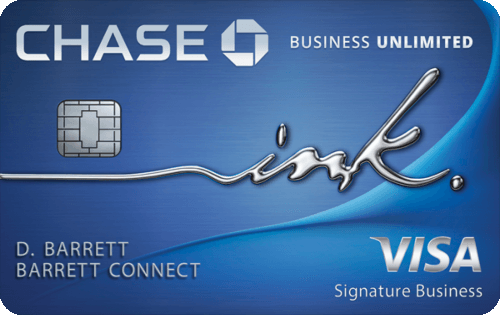 Chase Ink Business Unlimited Review
The Chase Ink Business Unlimited credit card could work well for a business owner looking for a straightforward, simple cash back program. With this card, you don't need to sign up or track revolving categories. Instead, you receive a flat cash back rewards rate on all purchases. This feature makes the card a natural choice for business owners who don't have the time to put into tracking rewards.
Additionally, if you aren't a big overseas traveler, this card could work well for you. It doesn't have the best travel perks out there, but if you don't need to go overseas for business much, that might not matter. However, you can use your earned rewards toward things like travel, cash and gift cards. So if you are an occasional traveler, you could potentially use your cash back for travel expenses.
Down to business with the Chase Ink Business Unlimited card
If you're wondering what to take into consideration when shopping for a business credit card, we break down the most important features of the Chase Ink Business Unlimited card.
APR: 0% intro APR on purchases for 12 months, then the standard variable purchase APR of 14.99%-20.99%.
Annual Fee: $0
Reward Rates: Earn 1.5% cash back on all purchases.
Intro Offer: Receive $500 cash back after spending $3,000 in the first three months.
Perks and features of the Chase Ink Business Unlimited card
Chase offers several additional perks that make the card stand out from the crowd.
Employee cards. Chase charges no additional fee to sign up for cards for your staff members.
Refer a business for cash. Earn up to $750 per year by referring other businesses to Chase's card services.
Travel coverage. Receive collision coverage on rental cars and emergency assistance services through Chase when traveling. You'll also have access to travel and emergency assistance services by calling Benefit Administrator. Also, you can call for roadside assistance anytime you need it, and the costs will be billed to your card.
Business monitoring. Keep an eye on your business expenses with fraud and purchase protection.
Clear rewards program. If you have little to no time to monitor rewards categories, this card offers a great solution, as it requires none of your precious time or energy to qualify for these rewards.
Purchase protection. Get coverage against theft and damage for new purchases for 120 days, up to $50,000 per account. Also, get any warranty (of three years or less) extended by one year if you purchase the item using this card.
Is the Chase Ink Business Unlimited card right for my business?
Who could be a good fit for this card? This card could be suited for a business owner that is looking to earn decent rewards but does not want to have to put in the work of managing complicated rotating categories. The reward rate won't be as high, but the time and attention will be minimal. If you couldn't imagine adding another thing to your to-do list, like signing up for credit card rewards each quarter, this card might work for you. The flat rewards rate makes this card a simpler choice.
Also, a business owner who doesn't travel internationally frequently could use this card. This Chase card carries a 3% foreign transaction fee on all overseas purchases, which can add up if you visit other countries frequently. But if you don't need to travel much, it shouldn't be an issue.
Who might want to skip the Chase Ink Business Unlimited card? Any business owner looking to maximize their cash back rewards potential — and is willing to put in the work — might find a better credit card for them. The 1.5% cash back rewards from this Chase card are quite low. Keep in mind, however, that if you want more cash back, you will likely have to put in more time and effort.
Furthermore, a business owner who travels a lot can likely find a better card for them, especially if they are going overseas. For another potentially more rewarding card, you don't need to look far to find the Chase Ink Business Preferred Credit Card. Although this card carries a $95 annual fee, you earn three points for every dollar spent on travel and specific business categories. This card could get a business globetrotter more cash back to maximize their travel spending.
The bottom line
Overall, the Chase Ink Business Unlimited credit card could work well for specific business owners. The introductory bonus of $500 cash back offer is excellent because it's also likely achievable. All you need to do is spend $3,000 in the first three months. If your business is already on track for that level of spending, you might as well earn an extra $500 while you're at it.
Plus, many business credit cards come with an annual fee. This card doesn't, which could make up for the lower rewards rate than some other options. Additionally, because the cash back program is so straightforward, you'll save time and energy by not having to track it. Instead, your rewards might show up each month as a nice surprise.
If you own a domestic business that deals with little to few — or zero — foreign entities and therefore don't need to travel much outside the United States, the easy rewards earnings on this card could be the right fit for you. The card doesn't offer beneficial travel rewards like some other business credit cards, so as long as you aren't missing out on a potentially better fit because you travel frequently, this card could work.