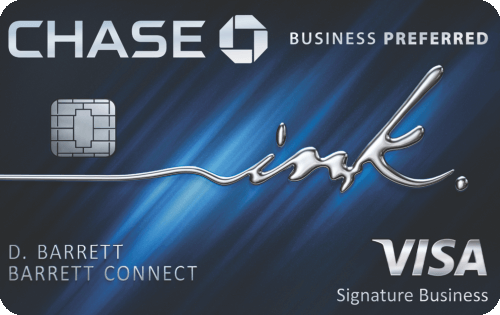 Chase Ink Business Preferred Credit Card Review
A business credit card should have three things — a decent APR, a low annual fee and high rewards potential. The Chase Ink Business Preferred Credit Card has all three. If you frequently travel for your company, be sure to check out the Chase Ink Business Preferred Credit Card.
Rewards you earn from using this card on your day-to-day spending translate directly into money for future travel, helping you save big on your adventures. Although the bonus earnings percentage is slightly lower than some other options, the card's introductory offer could more than offset this issue.
However, before diving into the Chase Ink sea, take all of the pros and cons of the card into consideration to make sure this is the best business credit card for you.
Down to business with the Chase Ink Business Preferred Credit Card
Things like APR, annual fees, reward rates and introductory offers are essential elements of a credit card, so we break down all these categories for the Chase Ink Business Preferred Credit Card below.
APR: 17.74% to 22.74% variable on purchases and balance transfers.
Annual Fee: $95
Reward Rates:  Earn 3X the points for every dollar spent up to $150,000 on travel, shipping purchases, internet, cable and phone service or advertising expenses on social media or search engines. Earn one point for every dollar spent on all other purchases.
Intro Offer: Earn 80,000 bonus points when you spend $5,000 in the first 90 days of card opening. Redeem for $1,000 in travel credit through Chase Ultimate Rewards.
Perks and features of the Chase Ink Business Preferred Credit Card
This Chase card offers more than just an exciting introductory bonus. It also provides members with many other travel-related benefits, including:
Extra points: Points are worth 25% more when used for travel through Chase Ultimate Rewards rather than for cash.
Flexible reward redemption: Redeem rewards as statement credits to use toward travel or products and services through the program or directly from third party merchants. Additionally, you can redeem points for cash back or gift cards.
Travel insurance: Up to a $5,000 refund for trips canceled or interrupted due to sickness, severe weather or other insured instances. You also get rental car collision damage insurance in case you're in an accident on the road.
No foreign transaction fees, which helps you save big while abroad.
Cell phone protection: If you pay your phone bill with this card, get up to $600 for a damaged or stolen cell phone for you or your employees. Keep in mind there are a maximum of three claims in a 12-month period.
Free cards for employees so you can accumulate points faster.
Is the Chase Ink Business Preferred Credit Card right for my business?
Who might benefit the most from the Chase Ink Business Preferred Credit Card? This travel rewards card could come in handy for business owners who travel frequently. You might as well earn rewards for travel you would be taking anyway. And you can save money on future trips since you can use your rewards points toward your next journey. The card carries an annual fee, but if you travel often, you'll likely earn more than you pay.
Who might want to skip this card? If you spend more than $150,000 per year across your entire company on travel, shipping services, internet, phone and online advertising, you might be able to find a better card. This card caps your rewards at $150,000 per year, so after you spend that amount, you'll only be earning one point per dollar. Look for a card with unlimited travel rewards.
On the other hand, if you don't often travel for business or spend lots of money on online advertising and communications services, the rewards on this card might not be worth it for you. You might try to find a card that offers cash back rewards or points that offer more flexible uses.
Lucky for you, a card like that is right around the corner. The Chase Ink Business Cash Card is a cash back rewards card that operates similarly to the Preferred credit card. With this card, you earn 5% cash back (up to $25,000 each year) on office supplies and internet and phone services. Additionally, you earn 2% cash back on every dollar spent at restaurants and gas stations, along with 1% back on all other purchases. 
The card's introductory offer is also nothing to sneeze at. You get $500 cash back after spending $3,000 on purchases in the first three months. Also, there's a 0% APR for the first 12 months, when it increases to 14.99%–20.99%. This card could work well for anyone who prefers more flexible cash back rather than travel rewards.
The bottom line
The Chase Ink Business Preferred Credit Card is a low-fee card with an enticing introductory offer. By merely opening an account, you could get enough bonus points for $1,000 in travel when redeemed through Chase Ultimate Rewards. This introductory offer could be enough to cover one or more roundtrip air tickets.
Furthermore, you can transfer your points one-to-one into miles on Chase's airline travel and hotel partners. This means one point equals one mile when transferred to a partner airline, like Aer Lingus, British Airways, Southwest Airlines and United Airlines. Marriott and Hyatt are two partner hotels, and the rewards exchange program looks the same.
The Chase Ink Business Preferred Credit Card doesn't have the highest rewards earnings on any card out there, but its introductory offer could make up for that. Overall, this card is worth looking into for company jetsetters and wish to earn rewards just by spending like normal.