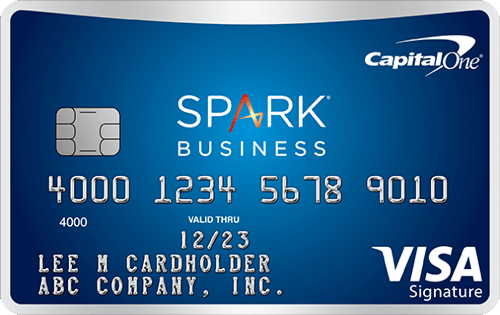 Capital One Spark Miles Review
If you're required to travel often to run your business, you might want to look into a travel rewards credit card that helps you maximize these expenses. That way, you'll earn bonuses just by living your life as the boss. And traveling for business doesn't have to be awful. In fact, the Capital One Spark Miles credit card gives travelers benefits that can make your trips smoother and more enjoyable.
You might as well earn rewards from all that travel you have to do. And the Capital One Spark Miles card is a great option that's worth examining. This rewards program can help your bottom line, as well, because you can use your earned miles for future travel. Lower travel expenses never hurt anybody.
When shopping for a business credit card, don't forget to consider the basics, such as the APR, the annual fee, the rewards rates and any introductory offers.
Down to business with the Capital One Spark Miles card
For anyone interested in the details of the Capital One Spark Miles card, here is a list of the most important features of the card.
APR: 18.74% variable on standard purchases.

Annual Fee: $0 for the first year, then $95.

Reward Rates:  Earn unlimited 2x miles on every purchase and 5x miles on hotel and rental car expenses booked through Capital One Travel.

Intro Offer: Up to 200,000 bonus miles. Receive 50,000 miles after spending $5,000 in the first three months and 150,000 bonus miles after spending $50,000 in the first six months.
Perks and features of the

Capital One Spark Miles
card
The Capital One Spark Miles card has lots of extra perks for cardholders, including some that make your travels more relaxing. Take a look at our breakdown of the most exciting benefits the card offers.
Credit for Global Entry or TSA PreCheck. Receive up to $100 statement credit when you use your card to purchase a prequalified airport check.
Travel protection. Receive rental car collision insurance and access to travel assistance when you book with the card.
Free cards for employees. If you need more than one card for your employees to use, receive them free of charge.
Fraud protection. Receive text alerts if something seems wrong and be on the hook for $0 in the case of fraud. You can also lock your card in case it's stolen or lost.
No foreign transaction fees.
Is the Capital One Spark Miles right for my business?
Who would get the most out of this card? If you travel frequently to run your business, the Capital One Spark Miles card could be an excellent sidekick that saves you money on trips. Not only can the card offer you the convenience in terms of shorter airport wait times with a Pre-Check credit, but you may be able to transfer your miles to one of Capital One's more than 10 partner airlines. Plus, earning 5x the miles on hotel and car rental expenses booked through Capital One Travel gets you that much back for expenses you would already be buying.
Who might consider a different card? A business owner that doesn't travel likely wouldn't be able to maximize the rewards from this card. Because this is a miles-based rewards program, it might make more sense for an infrequent traveler to look for a cash back or points-based credit card where you can earn rewards that are linked to airports or flights.
There are many options in this category out there, but you don't need to look far. For example, you could consider the Capital One Spark Cash credit card. This card offers many of the same benefits as the Spark Miles card but relies on cash back rather than bonus miles. You can earn an unlimited 2% cash back on all purchases, which you can turn around and invest into your company. Plus, if you spend $5,000 in the first three months you get $500 cash back, and if you spend $50,000 in the first six months, you get $1,500 cash back. That's a potential $2,000 cash back just for spending like you usually would.
The bottom line
Overall, the Capital One Spark Miles card is a fantastic choice for business owners who frequently jet set. You can get as many additional employee cards as you need without an extra charge and also monitor and cap your employees' spending. This makes it easier to hit the $50,000 cash back rewards tier. Because you already would be spending on travel, you'll be earning rewards by operating normally. Then you can use your rewards to fund future business trips.
Best of all, the rewards are unlimited. If you spend $15,000 every month, you'll get 360,000 miles at the end of the year. If you spend $500,000 every month, you'll get a whopping 12 million miles every year. These miles can go straight into future travel, leaving you more capital to continue growing your company or maybe even start a new company.
If you're not a globetrotter, look into the Capital One Spark Cash card instead, which provides you with cash back each year. Spending $15,000 per month gets you $3,600 back at the end of the year, while $500,000 per month gives you $120,000 cash back.
Calculate how much money you spend each year on travel to help you decide which of these cards makes the most sense for your company. Either one could be a great credit card for business owners.