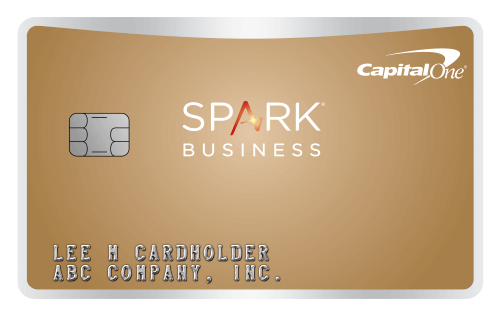 Capital One Spark Classic Credit Card Review
The Capital One Spark Classic business credit card is a good fit for newly established businesses or those who are looking to rebuild credit after some missteps. This card allows you to pay budgeted, recurring expenses and earn some simple cash back rewards along the way. Businesses should view the card as a stepping stone to other more fruitful financing opportunities while receiving straightforward rewards on all purchases. The card is budget-friendly with no annual fee, but you may want to avoid carrying a balance because of the high APR.
As you're busy pursuing sales and creating revenue, travel miles and point bonuses in revolving categories may not figure that high on your priority list. This is why the Spark Classic business card lets you tend to the important things while still earning cash back on expenses like rent, utilities, phone and Internet services. If you use the card regularly and pay on time, you may even open your business to more attractive offers from Capital One or other issuers.
Down to business with the Capital One Spark Classic credit card
APR: A standard variable APR of 24.74 % applies to all purchases. This rate comes closer to the higher interest-rate range offered by cards that require excellent credit to obtain. However, completely paying off each monthly bill erases any adverse rate impact on your finances.
Annual Fee: $0
Reward Rates:  Every purchase your business makes earns 1% cash back. Points don't expire as long as the account is active and in good standing, so you can redeem them easily for any amount by check or gift card when you reach certain levels.
Intro Offer: This card offers no special financing on introductory purchases and balance transfers.
Perks and features of the Capital One Spark Classic credit card
Travel and emergency services: Getting hung up outside your home base will be a little less convenient with card services that include lost ticket assistance and emergency medical or legal services. You can summon help seven days per week at any time of day.
Foreign transaction fees: If frequent, international travel is part of your routine, you won't incur any foreign transaction fees, which can amount to as much as 3% with other cards. While the card isn't travel-oriented, this feature helps globetrotting businesses save some dollars abroad.
Employee cards: Add employee cards to your account at no charge and let their business expenditures earn you additional cash bonuses. Annual reports will help you track and manage employee expenses, which eases the administrative burden on you or your bookkeepers.
Credit considerations: Applicants with average credit scores stand a good chance of approval, and card balances won't increase a business owner's utilization ratios on the personal side. It's one of the few limited existing options for establishing or rebuilding business credit.
Zero-fraud liability: Lost or stolen cards won't pose any issues with zero-fraud liability for unauthorized purchases. You can also receive text or email messages that alert you to suspicious activity on the card, and Capital One will help you dispute any erroneous charges.
Is the Capital One Spark Classic credit card right for my business?
For those business owners looking to grow and prosper, the Spark Classic for business credit card may be the ticket. Startup businesses with credit that's on the mend or newly minted sole proprietors fall into the class of owners who might utilize the Capital One option. The card is a solid first step toward a variety of financing options. Responsible users will use this card to gain access to more appealing types of capital funding, such as travel rewards cards with significant welcome bonuses, small business loans or business lines of credit.
On the opposite end of the spectrum, businesses with well-established credit and more varied expenditures and operations may seek other credit card solutions, especially when travel perks enter the equation. Airline miles cards not only help defray the cost of airfare but also offer some creature comforts such as discounted membership fees to exclusive lounges. Some cards even offer a travel companion certificate on the anniversary of the card opening, so overall, businesses on the move won't find much use for a basic cash back card. Card benefits and features are much more diverse and appealing as creditworthiness hits top tiers and spending power increases.
However, if you're looking for an apples-to-apples comparison with a card designed for credit rebuilders, the BBVA Compass Visa Business Rewards Credit Card could be a worthy alternative. The card also comes with no annual fee. Purchases at office suppliers earn you three points for every dollar and two points for gas and restaurant fare. Balance transfer rates range from 0-3.99% for 12 months and 20,000 CompassPoints accrue when you spend $3,000 in the first three months of account opening. Cardholders with fair or good credit will see APRs on ordinary purchases approach 25.24%.
The bottom line
With very few business credit card choices in the credit rebuilding realm, the Spark Classic business is a welcome sight for companies looking to expand their purchasing power. The card features a simple 1% cash back structure, and those rewards never expire throughout the life of the account. The card is a springboard for businesses looking to make their way toward more lucrative credit card or debt financing methods.
Larger and more complex businesses with a firm market foothold would likely eschew the Spark Classic business card for cards that reward big expenditures, particularly when concentrated in categories that include travel, gas or restaurants, among others. For any business, reality holds that excellent credit standing means greater choice and so Capital One Spark business card holders would be on the right track to diversify their financing options.