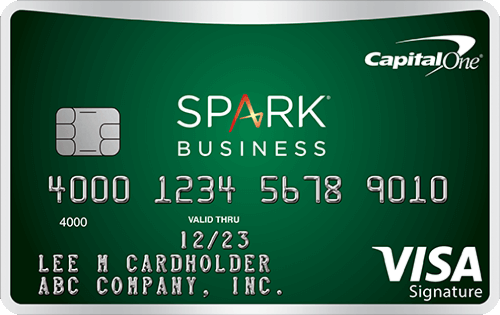 Capital One Spark Cash Credit Card Review
If you're looking for a cash back rewards credit card for your business, the Capital One Spark Cash credit card offers an excellent balance of low annual fees and high earning potential. Also, the introductory offer is fantastic but requires you to spend a significant amount of money in the first six months of account opening.
Furthermore, Capital One has an array of benefits in addition to its reward program. Plus, every category earns rewards, so you don't have to put in any work to ensure you're spending effectively. If you're a business owner that's seeking a straightforward cash back card that doesn't require you to track spending categories, this could be right for you.

Down to business with the Capital One Spark Cash credit card
Searching for a business credit card can seem overwhelming. We're to help — here are the most important features of the Capital One Spark Cash card.
APR: 18.74% variable.
Annual Fee: $0 for the first year, then $95.
Reward Rates: Earn an unlimited 2% cash back on all purchases.
Intro Offer: Receive $500 cash back after spending $5,000 in the first three months and $1,500 after spending $50,000 in the first six months of account opening.
Perks and features of the Capital One Spark Cash credit card
Capital One offers several additional benefits that make the card stand out among the rest.
Free employee cards. Capital One won't charge you for cards for your employees, saving you a bit of extra cash.
No foreign transaction fees. When you use the card abroad, you'll save money each time you use your card.
Travel coverage. Get collision insurance on all car rentals booked using this card, meaning you can avoid the pricy insurance offered by the rental agency.
Business monitoring. Gain peace of mind with Capital One's fraud protection that alerts you about fishy purchases, as well as purchase protection that repairs or replaces eligible items within 90 days of purchase.
Simple rewards program. If you don't have time or energy to monitor rotating categories of rewards or ensure you're spending in the right categories, this card makes it easy — 2% cash back on all purchases.
Is the Capital One Spark Cash credit card right for my business?
Who's going to get the most out of the Capital One Spark Cash credit card? A business owner who is looking for an easy way to earn cash back rewards could be a great fit for this card. Although other credit cards offer higher percentages of rewards, they often require you to track which category is earning rewards each quarter. Or in some cases, the rewards only apply for certain categories at all times, like travel or restaurants. 
This card is great for a business owner who can't be bothered with that extra work. Also, a business owner who travels could get their money's worth with this card since it doesn't have a foreign transaction fee. You'll avoid having to pay up to 3% of your purchase.
Who might want to try a different card? A business owner searching to get the most bang for their buck with their credit card rewards — and is willing to do the extra work — might be able to find a better credit card for their needs. The Capital One card only offers 2% cash back rewards, which is relatively low. The trade-off, however, is having to track rewards categories.
Additionally, a business owner who is looking for more niche rewards, like travel rewards, might want to consider a different card. If you are a frequent traveler, you should be able to get more impressive travel rewards through another issuer.
For example, the American Express Business Platinum Card® offers 5x Membership Rewards on all travel booked through AmexTravel.com, along with access to more global airport lounges than any other card on the market. You get 1x the points on all other purchases. Furthermore, you can earn up to 100,000 bonus points with their introductory offer, although you have to spend $25,000 in the first three months to get them. This offer ends on 12/4/2019. However, this card has a hefty $595 annual fee, but if you are a big traveler, you could earn more than you spend pretty quickly.
The bottom line
Overall, the Capital One Spark Cash credit card could work well for high-spending business owners. The introductory offer of up to $2,000 is great, but you have to spend a whopping $50,000 in six months to get it. If you don't plan on spending that kind of money in that time span, this might not be the best card for you. On the other hand, if you will already be spending $50,000 or more, it's a great perk to get $2,000 in cash back.
Plus, the annual fee on this card is on par with other similar cards. That makes its unlimited 2% rewards program more enticing since there's no cap on how many rewards you can earn. Additionally, because the cash back earnings are so clear, you'll save time and energy on not tracking it. Instead, you'll earn rewards without even trying.
If you own a business that would spend $50,000 or more in half a year, the easy rewards program on this card could be the right fit for you. The Capital One Spark Cash card doesn't give you luxury travel perks like lounge access or flight upgrades that some other business credit cards will. As long as you don't need a card that will give you top-of-the-line travel benefits or free flights, this card could be the right fit for you.