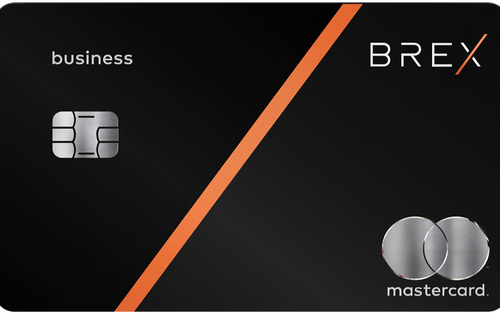 Brex Corporate Card for Startups
The Brex Corporate Card for Startups ushers in a completely new approach to business credit card financing. Unlike almost every other credit card option out there, to obtain the card, Brex requires no personal guarantee from ownership, which is great for startup ventures that may be hesitant to tie business guarantees to their personal situation.
Whereas other corporate card applications can be lengthy and complex, Brex issues electronic cards upon approval within minutes, and physical cards follow in the mail. The company also claims that its unique method of assessing eligibility extends credit lines that are much higher than the typical business card limit.
Because the Brex card is targeted toward startups, approval does not depend on the credit score of the business or the individual owners. This bodes well for new entrepreneurs who have not yet established business credit or have a thin personal credit file. The issuer looks at a company's financial standing and pegs spending limits on assets.
In that respect, it's important to note that the Brex card does not really fit the circumstances of a sole proprietor or contractor opening a small shop or service business. Rather, the model is geared toward startups that have already acquired assets through capital raises on some level. Therefore, a typical Brex applicant should have about $50,000-$100,000 or greater in liquid assets.
Down to business with the Brex Corporate Card for Startups
APR: Expenses must be paid off every month in full.
Annual Fee: There is no annual fee on the first five cards issued. However, after the fifth card, a charge of $5 per card per month applies to each subsequent issuance.
Reward Rates: All purchases earn one point per dollar unless you choose to participate in the Brex Exclusive program, which requires that Brex be your only business card. With that membership comes seven points per dollar on rideshare platforms like Lyft or Uber, four points per dollar on travel, three points per dollar at restaurants and two points per dollar on software subscription fees.
Intro Offer: No signup bonus exists but membership comes with discounts from some major business service providers.
Perks and features of the Brex Corporate Card for Startups
App integration: Transactions posted on the card can be easily uploaded to common accounting programs like QuickBooks, NetSuite and Xero. Employee business expense apps like Expensify also integrate with Brex.
Travel rewards: Brex Exclusive members can transfer accumulated points to various travel loyalty programs. You'll also receive access to travel rates only offered to large, public companies.
Partner rewards: You can get up to $5,000 in credits for Amazon Web Services fees, up to $150 credit for Google Ads, $436 credit per month at Zendesk (for one year only), 30% off Hubspot subscriptions (for one year only; 15% thereafter) and 20% off annual subscriptions to Zoom.
Unlimited rewards: There's no cap on spending on any of the bonus categories ratcheted up through Brex Exclusive membership.
Is the Brex Corporate Card for Startups right for my business?
The Brex Corporate Card for Startups fills a niche in the credit card market, as the name suggests. The solution arose from the struggle for two entrepreneurs to secure a business credit card without a personal guarantee. If your business seeks outside investment to monetize an innovative idea, this card could be just what you need. It gives you additional funding options to bolster operations while you focus on gaining traction in the market.
Payments must be automatically deducted from your bank account, and Brex prevents you from overextending the business by tying spending limits to capital you have available in your bank accounts, which the issuer will be able to monitor. If you're comfortable with this wrinkle, you may greenlight this program.
Addressing somewhat of a specific need, the Brex Corporate Card isn't your conventional financing mechanism. This, for freelancers or one-person service businesses, this card may not punch your ticket to some additional capital. Also, the prospect of allowing an issuer to continuously monitor and have access to checking and savings accounts may not sit well with some business owners.
If you don't consider yourself a startup with Silicon Valley-type aspirations, you might opt for a traditional business credit card like the Capital One Spark Cash card that gives you 2% cash back on every purchase you make, regardless of category. Rewards can be redeemed for any amount at any time, and there is no expiration. New cardholders will receive a signup bonus of $500 after $5,000 is spent in the first three months and $1,500 after $50,000 in charges in the first six months. There is a $95 annual fee, but any number of employee cards are free.
The bottom line
The Brex Corporate Card for Startups is a way for new business owners to shield personal assets from those of the organization. This strategy matters to the ever-volatile world of startups whose success or failure can be quite unpredictable. The card does offer some discounts and credits programs with partners that, if used in their entirety, would vastly outsize any other traditional reward point or cash-back programs. The likelihood that a company would seize on and max out all those partnership agreements is slim, however.
Sole proprietorships or small businesses with a few employees and a dearth of liquid assets won't be an ideal fit for the Brex card. There are more appealing traditional business credit cards, even for owners who are rebuilding their credit. With billions in capital being funneled into tech businesses around the globe, the card is a welcome and innovative addition. But, for the average small business owner plying their trade the way they always have, better credit card alternatives exist.