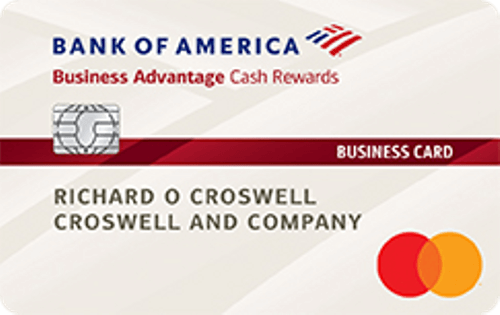 Bank of America Business Advantage Cash Rewards Mastercard Review
You can save a lot when you bundle services, and that concept applies to owning the Bank of America® Business Advantage Cash Rewards credit card. Companies that have an existing relationship with Bank of America will see some supercharged rewards benefits if they open a card. Increased bonus percentages are tied to deposit levels, so the more you store in a Bank of America account, the higher your rewards become. As such, the ideal candidate for the card is a significant, current depositor or one that's willing to pursue other accounts with the issuer.
Those without an account won't reap the same level of benefits, but the card is still worth a look. Certain spending categories fetch some respectable cash back reward percentages, and no annual fee applies. Rates for excellent credit fare well against the competition. Businesses in that top credit tier won't suffer significant interest charges if they decide to carry a balance in the short term. All in all, if you understand how the card works and forecast spending levels for the year, your company will realize some instant savings on your most-utilized goods or services. And you have some flexibility to choose and periodically change the category.
Down to business with the Bank of America Business Advantage Cash Rewards credit card
APR:  0% for the first nine billing cycles, then a standard variable APR of 13.99-23.99 % applies.  
Annual Fee: $0  
Reward Rates: You'll receive 3% cash back in a category you choose (gas, office supplies, travel, telecommunications, computer or business consulting services industries). A 2% reward applies to dining, so restaurants are combined with your selected category to form a cap of $50,000 in annual spending. All other purchases earn 1% cash back, and rewards don't expire.
Intro Offer: Receive a $300 statement credit when you spend $3,000 in the first three months after account opening.
Perks and features of the Bank of America Business Advantage Cash Rewards Mastercard
Flexible redemption options:  When it's time to collect what you've earned, redeem cash rewards via a statement credit, physical check or an electronic deposit into a Bank of America checking or savings account.
Category selection:  For your 3% rewards tier, you can stick with the category you spend the most in or change it each month if you project to shell out more dollars elsewhere.
Customer reward boosts:  For Bank of America checking or savings customers, the standard cash back rewards will receive a boost of up to 75%, depending on the level of assets held in the deposit accounts.
Travel and emergency services:  If you make purchases on the card, up to $100,000 in coverage exists for things like travel accident and car rental insurance and replacement of lost or stolen tickets.
Overdraft protection:  Bank of America customers can link credit card accounts and checking accounts to prevent check card declines and avoid overdraft fees.
Is the Bank of America Business Advantage Cash Rewards credit card right for my business?
Deciding between credit cards shouldn't be difficult for Bank of America business depositors who spend about $50,000 annually and hold $100,000 or more in the institution's checking or savings accounts. At those levels, the 3% cash back category you select nets you an impressive 5.25% reward. If you're not a current customer but you're willing to switch up your bank, a Bank of America Business Advantage Cash Rewards Mastercard and related deposit account would be a worthy choice.
However, you may not want to uproot long-standing bank relationships, so in that case, you could find other credit cards with rewards equal to or better than the Cash Rewards Mastercard. Also, if you're a significant spender overall, you must be aware of the bonus tier caps. Once you hit that $50,000 level in the higher tiers, the 1% remainder on all other purchases isn't appealing. As an example, if you reach your ceiling in travel expense at a 3% bonus, an additional $200,000 in spending would grab you a total reward of $3,500. The same figure with an unlimited 2% cash back card returns a $5,000 bonus.
If you plan to spend $55,000 in the first six months of owning a card, the Capital One Spark Cash for Business looks like a slam dunk. You'll come away with $2,000 in rewards in that time frame, and afterward, you'll earn 2% cash back on all purchases. And all these expenditures aren't subject to categories or dollar limits. So, if you spend another $50,000 throughout the second half of the year, you're racking up $2,900 in rewards. Those numbers outpace even the best possible multi-account scenarios with the Bank of America Business Advantage Cash Rewards Mastercard. 
The bottom line  
In the case of the Bank of America Business Advantage Cash Rewards Mastercard, strong alliances cut both ways. A satisfied Bank of America business depositor will acquire some very sweet cash back rewards with the card. Travel bonuses exceeding 5% aren't on every corner, and the absence of an annual fee ices the cake. Managing many of your main accounts under one umbrella also cuts down on administrative time and effort. In all these respects, the Cash Rewards Mastercard fits the bill.
On the other side of the literal and figurative coin, business owners outside the fold won't derive the same level of bonuses that steadfast Bank of America customers will. Furthermore, the pedestrian rewards associated with the Cash Rewards Mastercard can be found with many other issuers. So, the choice is yours, and it all hinges on what suits your needs and where you choose to park your liquid assets.