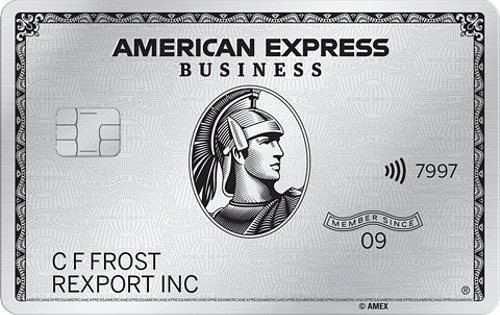 Amex Business Platinum Card
Business owners who want upscale travel perks and benefits from a credit card should consider the Business Platinum Card® from American Express. By giving you access to numerous airport lounges around the globe and a generous point bonus on travel accommodations, the card is highly sought after.
Like any other premium credit card, the annual fee will set you back considerably, but if you have the means and take advantage of all the Amex Platinum card has to offer, that cost will be of little consequence. Essentially, if you hit the spending requirements to earn a welcome bonus in the first three months of ownership, the fee is vanquished. Travel budgets will factor heavily into your decision to acquire the card, so if you or many employees take business on the road frequently, you owe this card a look.
Comfortable airport and hotel accommodations are a big draw, but you're probably wondering if the card makes sense from a cost perspective. It is one of the most expensive business cards available, yet you will find value outside the travel realm.
Outside car rental, airfare and hotel categories, you'll earn a respectable percentage of bonus points on any purchases over a prescribed dollar level. For instance, if you're a retailer or manufacturer that spends big on inventory or materials, using the card for those purchases could net you up to one million additional points annually.
Down to business with the Business Platinum Card from American Express
APR: This is a charge card for which expenses must be paid off every month in full, but enrollment in Amex's Pay Over Time feature does allow payments to be spread out at an applicable APR.
Annual Fee: $595
Reward Rates: Purchases on flights and hotels booked through the Amex travel website earn five points per dollar. Aggregate purchases over $5,000 earn 1.5 points per dollar, and all other purchases earn one point.
Intro Offer: Receive 60,000 Membership Rewards® points after you spend $10,000 in the first three months. Grab an additional 50,000 points if you spend $25,000 in total in those three months.
Perks and features of the Business Platinum Card from American Express
Airline credit: Receive a $200 statement credit toward baggage checks, incidentals or other qualified purchases with more than 20 select partner airlines.
Dell computer rewards: On Dell computer purchases, you will earn a $100 statement credit on hardware, software or services purchased in the first half of the calendar year, and an additional $100 credit on qualified purchases in the second half of the year.
Airport lounge access: Kick back in more than 1,000 airport lounges around the world through the American Express Global Lounge Collection. You can even bring two companions into the plush Centurion Lounges, no matter which airline or class they're flying.
Pay with points: Cardholders using rewards to book flights through Amex travel will receive an additional 35 points per 100 redeemed, up to a maximum of 500,000 points per year.
Is the Business Platinum Card from American Express right for my business?
Before you consider applying for the Business Platinum Card from American Express, there are three questions for you to ask. Do you or will you and your employees be traveling frequently? If so, will the projected volume wash the card's annual fee? And finally, will you optimize the use of most perks and benefits offered by the card?
Responses to those questions plus some calculations on spending and potential rewards should give you a good idea whether the $595 annual fee makes economic sense. Aside from travel, if you're a new or existing company that expects to spend $50,000 in the first three months of owning the card, the 110,000-point welcome bonus is hard to beat.
However, if you're a small business who won't spend that much, you'll be missing out on one of the more alluring non-travel benefits. Startups may be more concerned with sales and marketing efforts than paying a significant fee to enhance trip accommodations. Likewise, companies that literally stay grounded for the most part won't relish all the travel bells and whistles that come with the card. Even the occasional business trip wouldn't justify the hefty annual fee.
If you anticipate travel expenses mixed with heavy spending in other business categories, you might consider the American Express® Business Gold Card, which offers a lot of the same perks as its glitzier counterpart but requires a lesser $295 annual fee. You'll earn 35,000 Membership Rewards® points after you spend $5,000 in the first three months and 25% bonus points up to a 250,000-point annual limit when you book flights through Amex travel. Ongoing rewards offer four points per dollar spent on two bonus categories where your business spends the most. Thus, if travel doesn't occupy a large portion of your budget, you still receive an attractive reward rate on everyday spending.
The bottom line
Businesses that want to travel in style and still earn respectable point bonuses on large-ticket purchases will savor the benefits that come with the Business Platinum Card from American Express. Between 5X bonus rewards on trips and a huge welcome offer for significant spenders, the card sits at the top of the heap for travel rewards cards. For companies that can absorb the annual fee, the card definitely merits close consideration.
Small businesses that won't reach bonus spending limits or stay within a tight radius of headquarters won't find value with the card, especially when they're shelling out $595 annually. If you're a small or startup organization, it would behoove you to take a look at another card in the Amex family, which has a more moderate fee and earns you impactful rewards in categories where you're actually spending your money.