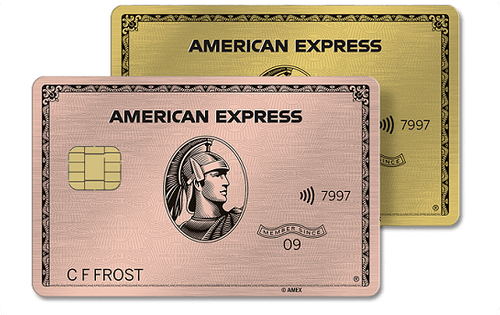 American Express Business Gold Card Review
For companies craving a business credit card that offers a balanced array of rewards, introductory bonuses and travel perks, the American Express® Business Gold Card meets those needs. The card offers impressive point bonuses on common spending categories like airfare and advertising, and it gives new accountholders a nice welcome incentive.
For those who don't want to fuss each month with signups and determining where the bulk of their dollars go, Amex automatically applies the highest point level to the eligible categories. The cap on spending limits in those select categories is greater than a lot of other cards you'll encounter in the same niche, and points accumulated over that threshold are unlimited. So, businesses that spend large sums on the card will earn some hefty rewards and pick up some attractive perks.
If you maximize the upper-tier bonus rates and spend a manageable amount out of the gate, the annual fee won't put much of a dent in your overall costs. Flexible payment options give you the ability to pay higher-dollar expenses over time, and that could help with cash flow for businesses that see fluctuations in revenue each month. And should you use Amex options to book business trips, you'll walk away with a better redemption value on points than if you were to use a competing platform.
Down to business with the American Express Business Gold Card
APR: The card has no special introductory rate offer on purchases or balance transfers. A standard variable APR of 15.74-23.74% applies, but you're expected to pay the full balance on aggregate amounts for goods and services that cost less than $100 individually.
Annual Fee: $295
Reward Rates:  Purchases in six select categories earn four points per dollar up to $150,000, and all purchases thereafter earn one point per dollar without spending limits.
Intro Offer: In the first year, the American Express Business Gold Card gives you 35,000 Membership Rewards points when you spend $5,000 in the first three months.
Perks and features of the American Express Business Gold Card
Additional capital access: Cardmembers can tap additional funding through the Amex Working Capital Terms agreement that provides additional short-term dollars over and above preset spending limits. You can choose which vendors to pay with the proceeds, and the issuer will remit payments automatically.
Airfare credits: For flights booked through Amex Travel with earned bonus rewards, you'll get back 25% of those points with a limit of 250,000 points overall per calendar year.
Comprehensive travel rewards: You'll receive free membership to the Travel Leaders group, which gives you perks like a personal travel planning service, discounts on airfare and the ability to upgrade hotel rooms. That program would cost $295 for non-Amex cardholders.
Special pricing arrangements: With the Amex Offers program, you will find a number of valuable discounts on business-oriented products and services when you log on to your account page.
Entertainment perks: For concerts, sporting events, etc., Amex cardholders get a crack at pre-sale tickets, VIP access and preferred seating.
Is the American Express Business Gold Card right for my business?
When you're considering applying for a card like the American Express Business Gold Card, you'll want to analyze your previous spending habits over the past 12 months to see if your purchases align with the 4% bonus categories. New businesses will want to make that same assessment but must rely on projected spending in the upcoming year. If gas, airline ticket or computer software and hardware count among your past or future purchases, this card is an excellent fit for your business. Also, if you run a seasonal operation that has a few lean months during the year, the additional access to capital and flexible repayment options could be used to supplement cash flow.
Organizations such as retailers or wholesalers whose major expenditures are concentrated in inventory and materials may not be the best candidates for the Amex Gold Card. Businesses like these might be better off using a card that earns a flat two points per dollar on all purchases, regardless of category. It's the same for big spenders, as once the $150,000 cap is reached on the four-point areas, you won't be earning as much back. Finally, if you're a startup trying to hold the line on costs, the $295 annual fee may turn you off.
One possible alternative to the American Express Business Gold Card is the Ink Business Preferred Credit Card by Chase. Right off the bat, you'll pay $200 less for the annual fee, and the Chase option nets you 80,000 points after $5,000 in purchases in those first three months. Those points equate to $1,000 if redeemed through the Chase Ultimate Rewards program. One other unique benefit is cellphone protection. You and your employees receive up to $600 in coverage for theft of or damage to mobile phones.
The bottom line
No matter how you look at it, the American Express Business Gold Card is a solid option. Most companies can wrench value from the four-for-one bonus point structure, and it doesn't take a huge chunk of change to neutralize the annual fee in the first three months. A bevy of Amex features and benefits are included with the card, including some unique programs that let you easily access funding beyond your spending limit.
You'll always have a choice in the credit card arena, and whether another solution suits your fancy depends largely on the type of business you own, the categories in which you spend and the tolerance you have for an annual fee. Meatier welcome bonuses can be had through other cards, so perform your due diligence to find the choice that's right for you.