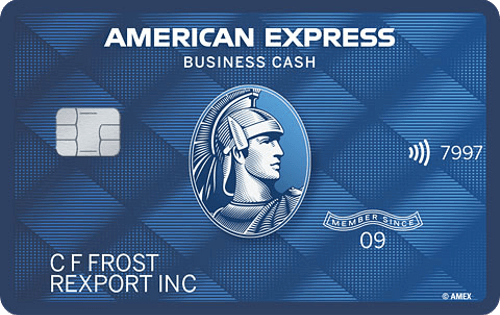 Amex Blue Business Cash Card Review
The Blue Business Cash™ Card is new to the American Express lineup. It lets businesses take advantage of the bank's Working Capital Terms program. By seeking short-term loan amounts that range from $500 to $150,000, you can use the funding to quickly pay vendors — typically within 48 hours. Before you can solidify this agreement with Amex, you must have a six-month relationship with the bank as a business cardholder. A repayment schedule consists of one, two- and three-month terms and a fixed-fee charge applies as term length increases, currently 0.6%, 1.2% or 1.8% as you move up the ladder in months.
The Blue Business CashCard from American Express works well for businesses that have sporadic cash flow and may need to tap additional resources during certain periods. When your business acquires the card, you will have a preset maximum credit limit, but you can exceed that cap without penalty if necessary. However, this isn't to say a business has unlimited purchasing power with the card. The flexible dollar amount you can access depends upon several factors, like the overall financial health of your business, the status of your relationship with the bank and both credit and payment history.
Down to business with the Amex Blue Business Cash Card
APR: A standard variable APR of 14.74-20.74 % applies to all purchases. This is competitive on both ends of the range, so businesses that carry balances won't get stung all that hard.
Annual Fee: $0
Reward Rates: Every purchase your business makes, regardless of category, earns 2% cash back. There's no need to worry about signing up for rewards or revolving categories.
Intro Offer: The card offers 0% financing on introductory purchases and balance transfers for a period of 12 months. If your business is looking to make large interest-free purchases on the card upon issuance, this program will spread payments out and aid cash flow.
Perks and features of the Amex Blue Business Cash Card
Car rental benefit: If you're a business owner on the go, you can waive physical damage coverage to automobile rentals paid for with the card. Theft and collision coverage automatically extend to rentals, but certain types of vehicles may be excluded from this benefit.
Employee cards: For no additional fee, you can authorize employees as card users. Their purchases help you earn cash back rewards and manage monthly expenses, with an annual summary statement rolling up for easy reference at tax time.
Apps and integration: Making use of the Amex Business app lets you track company spending and purchasing power from anywhere at anytime. If you use QuickBooks software, transactions can be effortlessly uploaded to your accounting platform.
Purchase protections: From the start, you can have peace of mind on items purchased with the card. For 90 days after you buy a product, you may be reimbursed the total cost of an item that is either damaged or stolen. The card's warranty coverage adds one year to original manufacturer warranty periods of five years or less.
Automatic point redemptions: This feature allows you to put your rewards program on autopilot. You won't need to expend any extra effort to redeem accumulated points as statement credits are issued automatically.
Is the Amex Blue Business Cash Card right for my business?
The Amex Blue Business Cash Card fits the mold for businesses that don't make a lot of purchases on their credit cards because of how the rewards program works. All purchases earn 2% cash back, but after a $50,000 threshold is reached, that percentage drops to 1%, meaning you won't earn as much back. However, if your business spending falls below that cap, you'll earn a solid bonus across the board. Also, if your business is new or seasonal and has trouble accessing traditional capital funding, this card may help alleviate those issues through the Working Capital and Expanded Buying Power platforms.
Businesses that spend heavily overall or in certain categories like office supplies or phone and internet services might be better served by a card that offers higher rewards on those products and services. For instance, on $50,000 expenditures in gasoline or restaurants, the Blue Business Card would net you $1,000 in cash back, whereas a 5% option would get you an additional $1,500.
The Ink Business Preferred Credit Card by Chase is a business card that picks up the slack where the Blue Business Cash Card lags. It packs a whopping welcome offer of 80,000 points when you spend a mere $5,000 in the first three months after account opening. When redeemed through the Chase Ultimate Rewards program, those points equate to $1,000 in travel rewards. No welcome offer exists with the Amex card. Furthermore, travel points accumulate up to $150,000 at a ratio of three points to each dollar spent, so businesses that spend big and span the globe would do well with the Chase card.
The bottom line
The Amex Blue Business Cash Card has its place in the small business financing arena. It suits freelancers and micro-businesses that don't spend much per year on a credit card, yet still have bills to pay. In that respect, small business owners can also leverage the power of Amex's flexible credit limits and short-term loans to pay vendors when monthly revenues fluctuate or don't meet projections. Thus, the Blue Business cash card solves a few problems under one roof, including a no-frills reward program that requires minimal attention.
For larger businesses that have easy access to capital and spend significant dollars on business-related expenses, better options exist. You can target cards having cash back rewards that don't step down in percentage once a specific spending limit is reached. Other business cards tout considerable welcome bonuses that don't require huge cash outlays and easily make up for annual fees. You know your business better than anyone. Therefore, let yourself be the judge of what works best.