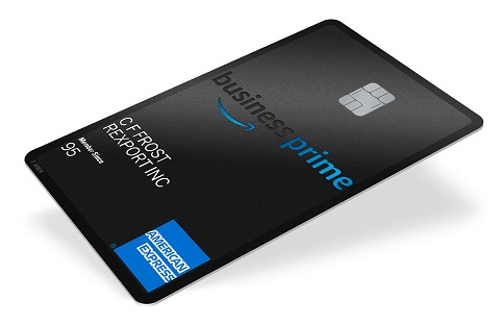 Amazon Business Prime American Express® Card Review
The Amazon Business Prime American Express® Card, which launched in late 2018, targets small business owners with an affinity for Amazon shopping. It provides businesses who frequent any of Amazon's entities, including Whole Foods, with high rewards rates and a decent APR.
One especially exciting feature about the card is the ability to choose your rewards. As a cardholder, you can either receive a percentage back on each purchase or extend your credit card terms to two or three times more than the standard 30 days. Therefore, you can buy something and pay it off more slowly without accruing interest. For many business owners, it could nice to have a choice between the two rewards options.
The card is meant to work in conjunction with Amazon Business, the arm of Amazon that works with companies of all sizes to offer a competitive marketplace with reduced pricing on millions of items. Furthermore, you gain access to items listed exclusively for businesses through Amazon Business. If you're already shopping at Amazon.com, Amazon Web Services (AWS), Amazon Business or Whole Foods, it could be worth earning a percentage back on each purchase.
Down to business with the Amazon Business Prime American Express Card
We detail the basics of the Amazon Business Prime American Express Card below to help you decide if the Amazon Business card is right for you.
APR: 15.74%-23.74% variable.
Annual Fee: $0
Reward Rates: 2% back at U.S. restaurants and gas stations, along with wireless telephone services purchased directly from U.S. providers. 1% back on all other purchases.
Intro Offer: Get a $100 Amazon gift card once approved ($125 with eligible Prime membership). Earn another $100 if you spend $3,000 in the first three months in the 1% and 2% back categories.
Perks and features of the Amazon Business Prime American Express Card
For any fan of Amazon, this card offers many benefits in addition to its healthy rewards program. Its unique perks make it a card worth examining.
Flexible rewards program. Choose between earning 3% back on purchases at Amazon.com, Amazon Business, AWS or Whole Foods Market with a credit term of 60 days. The latter option allows you to make interest-free purchases for an additional 30 days. If you're an Amazon Prime member, the rewards program bumps you up to earn 5% back or enjoy a 90-day term on your purchases.
Free employee cards. You don't get charged for cards for your employees.
Travel protection. Receive car rental loss and damage insurance when you pay for the booking with your card. Also, you have access to a baggage insurance plan and a global hotline for travel assistance.
Business-only pricing. Access reduced prices for businesses on more than five million items.
Controls over employee spending. You can set employee spending caps to make sure they aren't overspending on any one category.
Is the Amazon Business Prime American Express Card right for my business?
If you're searching for a high-rewards credit card with flexibility and low fees, the Amazon Business Prime card could be right for you. Its lack of an annual fee and discounts on millions of its online items make it competitive with the rest of the credit cards on the market. However, you have to shop at Amazon frequently to maximize the rewards for this card.
Who might want to look elsewhere for a credit card? Several types of people might want to select a different card. First, anyone who doesn't frequent Amazon's websites for their business isn't going to get a lot of bang for their buck with this card. Without shopping at Amazon, the most you can earn in rewards is 2% back on restaurants, gas stations and wireless phone services and 1% on everything else. In that case, you might want to look elsewhere.
Additionally, a business owner who wants travel rewards will want to stray away from the Amazon Business card. This fact is especially true since it operates with American Express, which fewer stores overseas will accept than a card on another network like Visa or Mastercard. However, American Express is accepted in more and more locations domestically. In fact, in 2018, over 1.6 million more U.S. locations began taking American Express.
If you're not an Amazon customer or aren't interested in its rewards, check out the Blue Business Cash™ Card from American Express®. This card also has no annual fee, plus a 0% APR for the first 12 months. After that, the APR is lower than Amazon's card, coming in at 14.74%-20.74% variable. You can earn a substantial 2% cash back on every purchase up to $50,000 every year. Then the rewards drop to 1% cash back on everything. Additionally, it allows you to spend over your credit limit with Expanded Buying Power and provides travel protection through American Express.
The bottom line
The Amazon Business Prime American Express Card is an excellent choice for a business owner who relies on Amazon and its other services for their company's operations. If you're already spending at places like Amazon.com and AWS, you might as well be earning up to 5% back. Additionally, its 2% back on restaurants, gas stations and wireless phone providers is competitive with many other cards on the market.
Also, the flexibility the card offers in terms of its rewards could be useful for a small business owner. They can decide whether they want direct rewards or a longer pay-off term. Overall, this card could be great for someone who wants to enjoy control over their employees' purchases while also having access to millions of reduced prices on Amazon's sites.