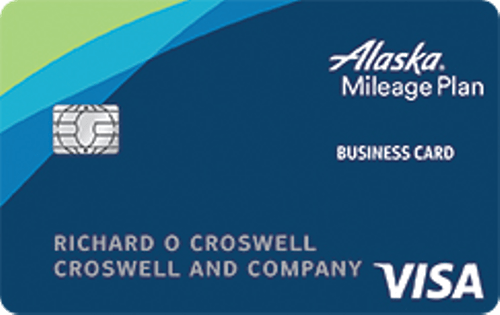 Alaska Airlines Visa Business Credit Card Review
If you're a business owner who frequently travels in North America, you may want to look into the Alaska Airlines Visa® Credit Card from Bank of America®. The card offers a decent APR and a high annual fee but gives qualifying cardholders an excellent introductory offer. Plus, each year, you get a reduced fare for one companion roundtrip ticket, which is helpful for colleagues who need to travel together.
Additionally, Alaska Airlines was named the Best U.S. Airline by Condé Nast Traveler in 2018 and 2019. The airline recently merged with highly rated Virgin Airlines and is celebrated for its regional additions, like Starbucks coffee, and style. A card that works in conjunction with Alaska Airlines seems almost to guarantee comfortable, easy business flights. This fact alone could convince many business owners to jump at the opportunity.
Down to business with the Alaska Airlines Visa Business Credit Card
This business credit card has a lot of exciting features, but let's first take a look at the basics.
APR: 17.49% to 25.49% variable 
Annual Fee: $50 per company, $25 per card
Reward Rates:  Earn three miles for every $1 spent on Alaska Airlines purchases, plus one mile for every other $1 spent.
Intro Offer: Receive 40,000 bonus miles and Alaska's Famous Companion Fare after spending $2,000 on the card in the first 90 days of opening.
Perks and features of the Alaska Airlines Visa Business Credit Card
This card also offers business owners several other perks that can help them grow their business.
One reduced companion fare. Receive Alaska's Famous Companion Fare once per year when traveling with another person. Roundtrip companion tickets when booked with the savings code start at $121 ($99 plus taxes and fees), depending on the itinerary.
Free checked bag. Save on one checked bag for up to six guests traveling with you.
No foreign transaction fee. Don't spend money to use your cards overseas. Avoid the foreign exchange fees when you're traveling abroad.
Free hotel nights. Use your Alaska Airlines miles on hotel stays at one of over 400,000 properties through Alaska Airlines Hotels.
Airport lounge access. Get into an Alaska lounge for 50% off the standard price, plus receive 20% back on inflight food, beverage and Wi-Fi purchased on your card.
Travel assistance. Have access to travel and emergency services, such as $1 million in travel accident insurance and auto rental insurance, as well as a replacement ticket in an emergency and help with lost luggage. 
Is the Alaska Airlines Visa Business Credit Card right for my business?
If you travel for business in the North American region, you could be an excellent fit for this card. Unlike its name suggests, Alaska Airlines doesn't only fly to and from Alaska. It covers areas all over the United States, including Hawaii, in addition to cities in Canada, Mexico and Central America. Furthermore, you can earn miles on many of its partner airlines in Asia, like Singapore Airlines, Japan Airlines and Emirates.
Additionally, the benefits Alaska Airlines offers could help you plan memorable staff retreats. For example, when you fly Alaska Airlines, you can ski for free at many partner ski resorts in states from Alaska to Idaho. Even if you aren't already an Alaska Airlines devotee, the high customer satisfaction ratings mean the airline is worth a shot. And why not boost your business travel rewards at the same time? However, unlike many other travel business credit cards, this one doesn't offer free cards for employees. The $25 annual fee per card could cause financial strain if you have many employees using individual cards.
Who might want to skip the Alaska Airlines credit card? Anyone who frequently travels overseas — or doesn't travel at all — for business could likely find another card better suited to their needs since this card targets business owners who fly in and around North America. Additionally, an employer that has many staff members that will need a credit card might find a better deal elsewhere. Many business credit cards offer free cards for employees, and the $25 annual fee per card could add up.
If you're looking for a wallet companion on overseas business trips, try looking into the Spark Miles from Capital One card instead. You'll get free cards for your employees and an annual fee of $0 for the first year and $95 after that. It offers 5x the miles on every hotel and car rental purchase booked through Capital One Travel, plus 2x the miles on every other purchase made with your card. Also, there's an additional intro opportunity to earn up to 200,000 bonus miles in the first six months of account opening. However, you have to spend $50,000 to get all of those miles. The APR is 18.74% variable, as well.
The bottom line
The Alaska Airlines Visa Business Credit Card has fantastic perks but carries a high annual fee and only a decent APR. Its rewards are also not the most competitive – earning one mile per $1 spent on most purchases. Other travel rewards cards offer several times the rewards on purchases made in places like restaurants and gas stations.
However, if you're in the market for a travel card that can get you around North America — along with miles when you travel to Asia — this card could work for you. To maximize the rewards, you would need to spend $2,000 in the first three months. Also, you'll want to purchase flights throughout the year on Alaska Airlines frequently enough to get the most out of the 3x the miles on those purchases. If you're looking for a card that gets you premium perks, such as airport lounge access, and are willing to pay the annual fees, this card could help you grow your business.